He had been playing his DS and Scratch the whole morning and I was thinking of ways to make him to go out with me for a walk. I have nothing against him playing gadgets but I always tend to have a hard time dragging him away from it when his time with them is up.

So I need to brought up my secret weapon, the rock pool area at the end of the seafront.

Always works like today. We prepared some water and some food and we are off.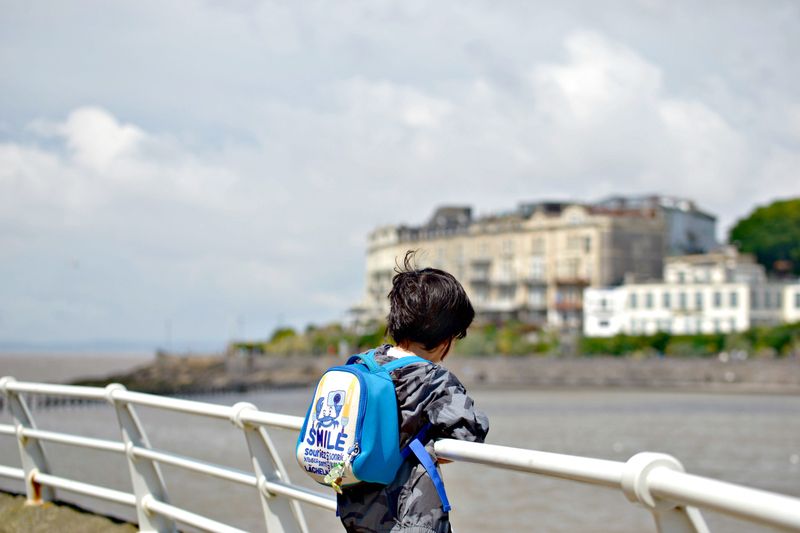 Its a sunny day and yet the wind is strong. So much so that it blows me away sometimes.
Not very good when you are surrounded with rocks. So I am a bit weary.

But him, look at how confident he is in there now? Funny too that he is wearing camo and he can get lost in there as his jacket is the same color as the rocks. Hence an impromptu lesson about camouflage (by him) on the rocks.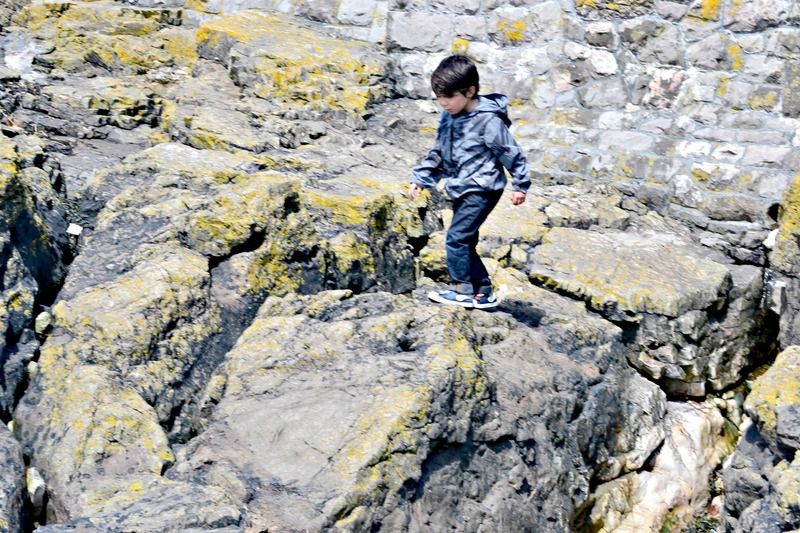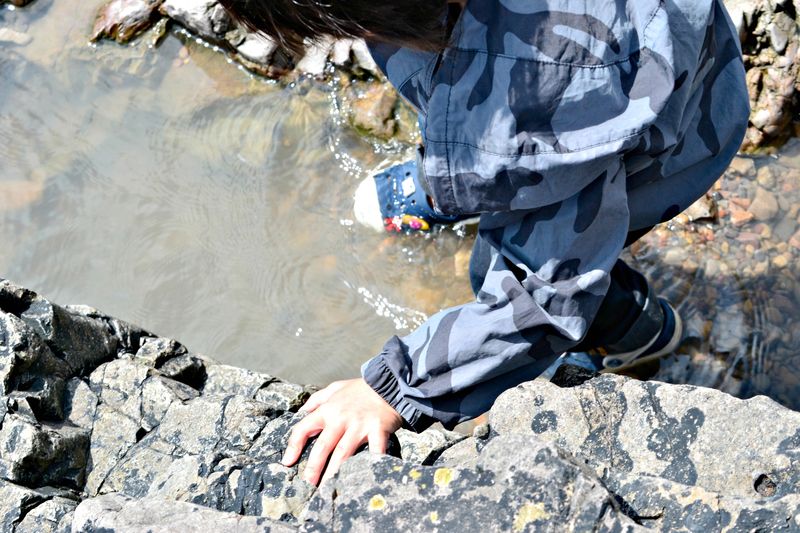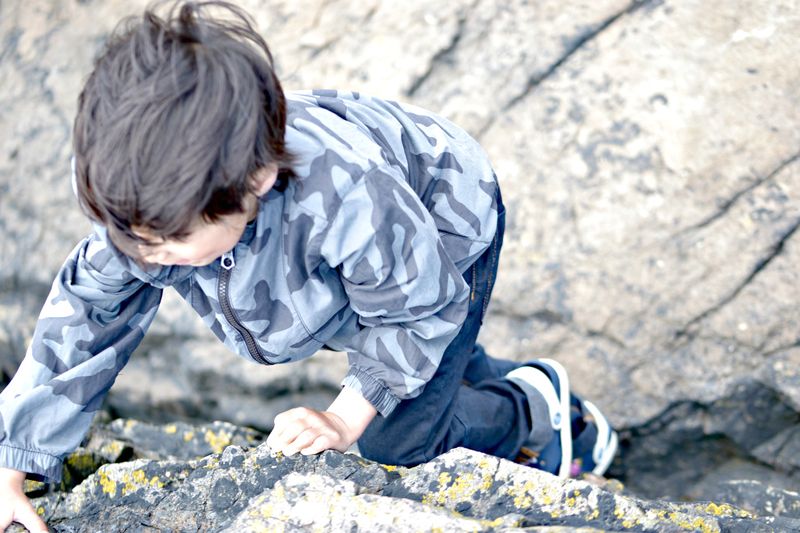 We have spotted sea weeds and shells with interesting shapes and we stopped to admire them.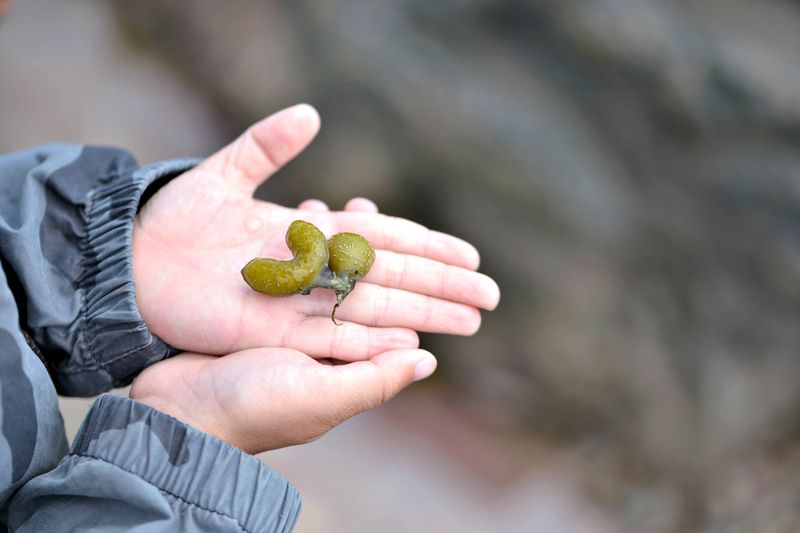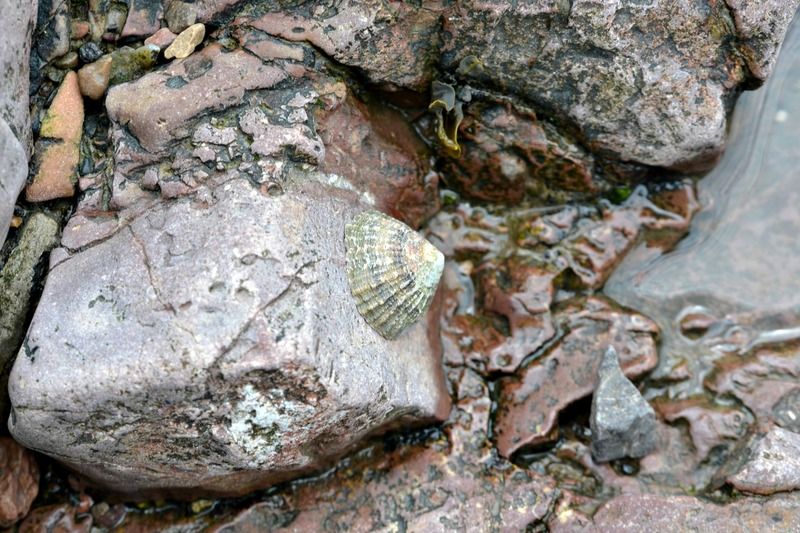 When the wind started getting stronger it is our cue to go. He wanted to stay some more.
I promised we would go back and that convinced him. But not without seeing the parts of this area with blooms!
He started roaming again and spotted this! I think he is a catterpillar but he looks like a woodlouse.
I am researching now. Whatever he is he is cute!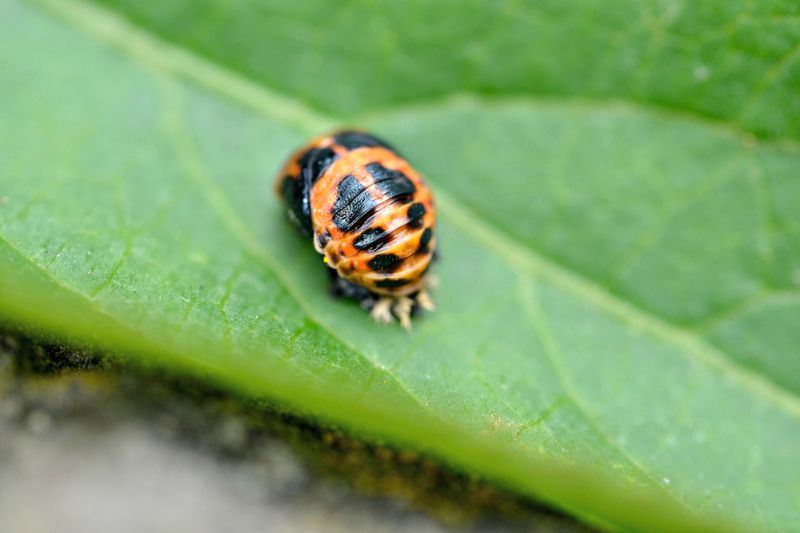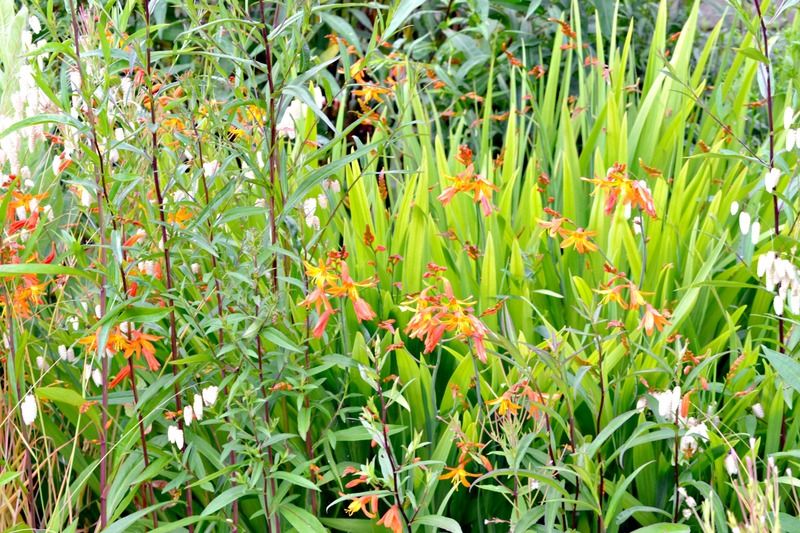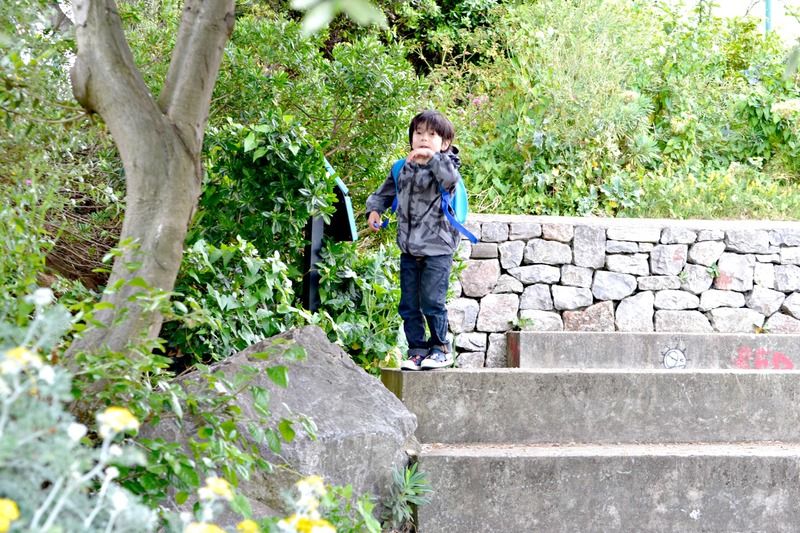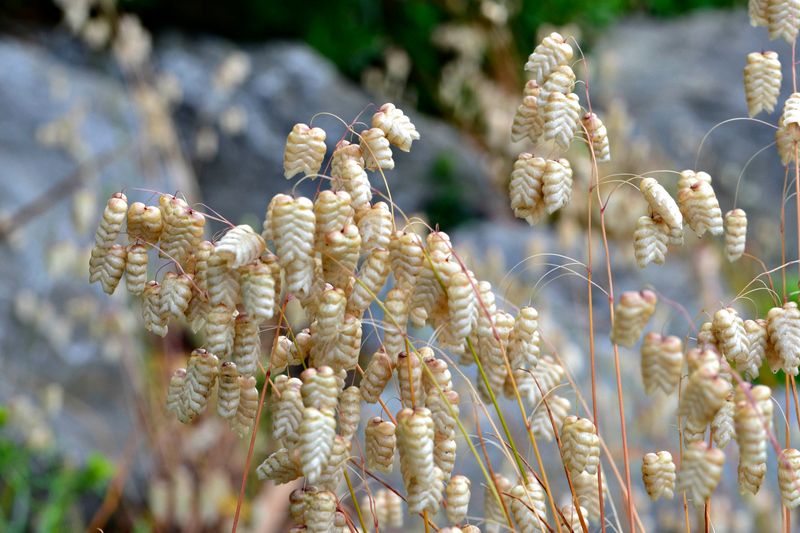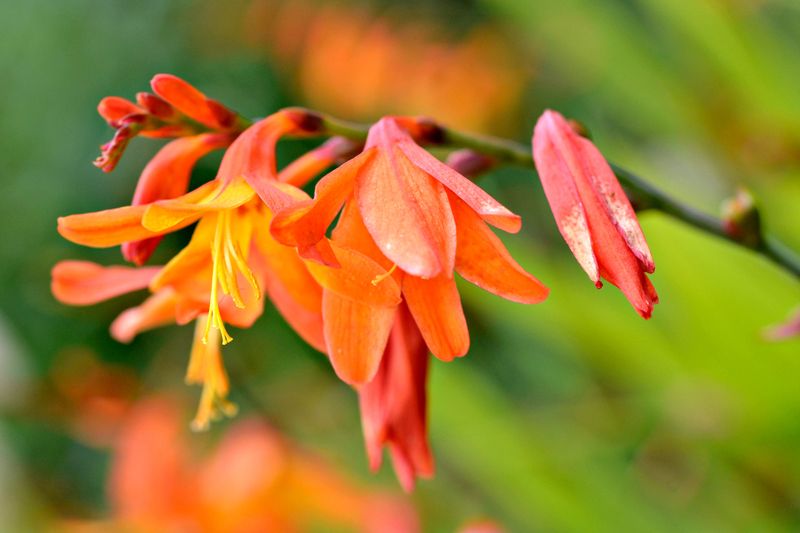 We arrived home almost 4pm! We left lunch! I cant believe we were there that long.
Time really flies when you are having fun.
And I am so glad that we were able to spend some time out and have few hours of unplugged moments.

I am so proud of how confident he is now in this landscape and maybe next time I will let him explore that scarier ones.
Cant wait for that!

xx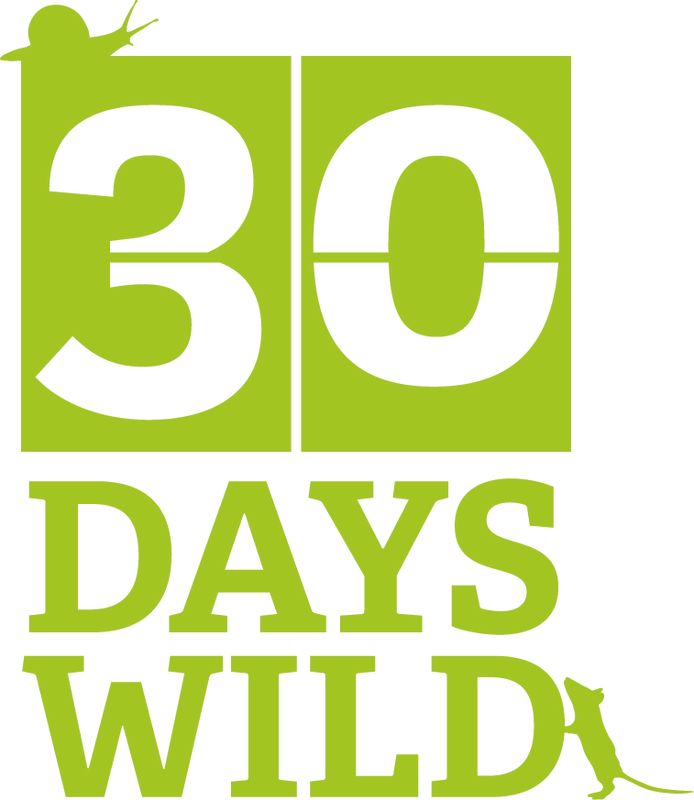 I am getting a lot of allergy attack and I am not functioning well without my meds.
And yet the whole week was spent with me getting photos of blooms and plants (pollen alert!!!) and mini beasts that adores them like me.

I just cant help it. Last week was draining and I just need to get out and think about so many things.
Seeing blooms helps. Taking photos of them helps more.

I do not need to go far to get photos too. Just the beach lawns, sometimes during or after school run in the morning.
Sometimes with my son or if its after school run, all by myself.
Different weather gives me different results. But beautiful everytime.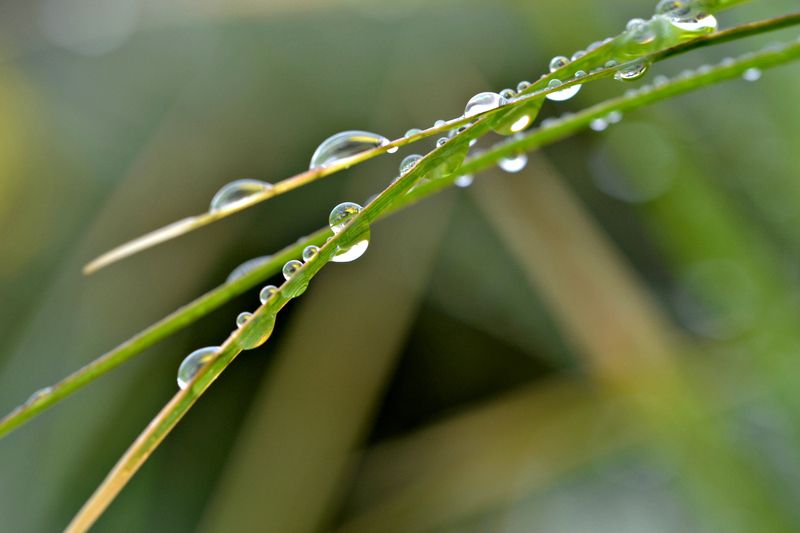 I think its safe to say that my word of the week is blooms.
They are an amazing, never the same each day, always beautiful & I wont get tired of looking at them whatever the season!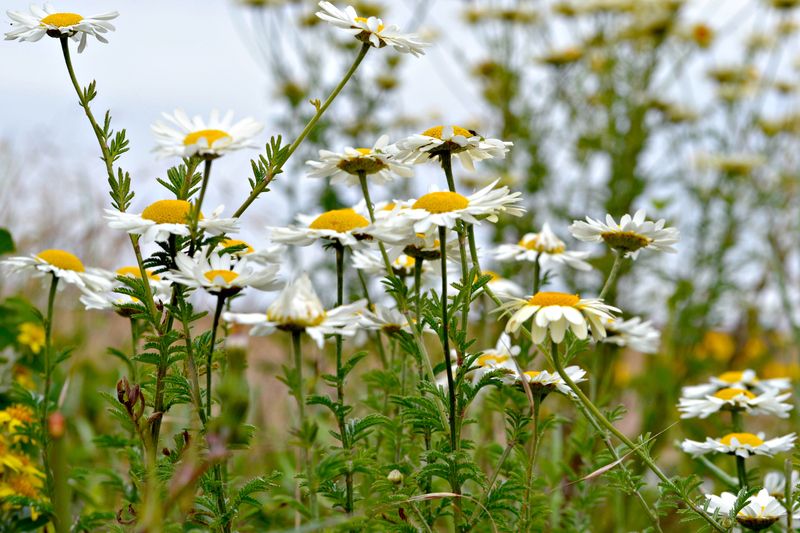 Especially if I am taking photos of them with my company who never gets tired of my obsession with flowers!
Who btw is so proud of his Blue Peter Badges.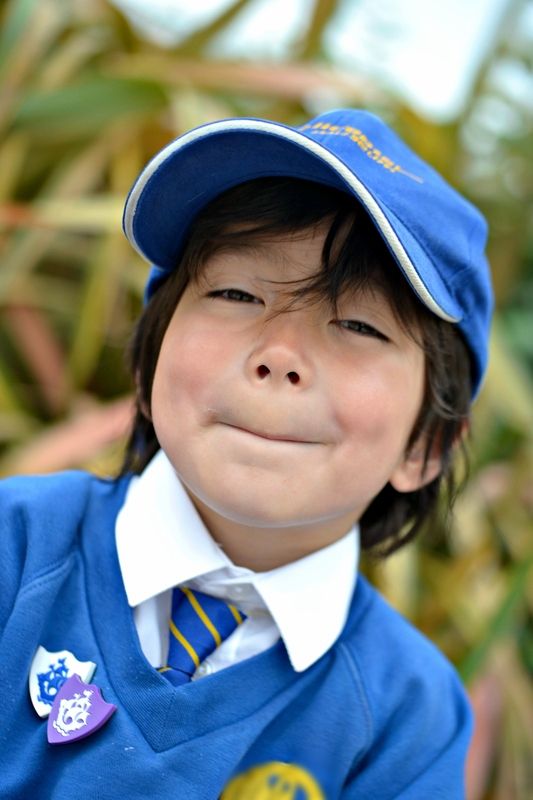 xx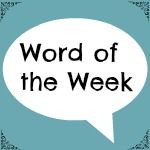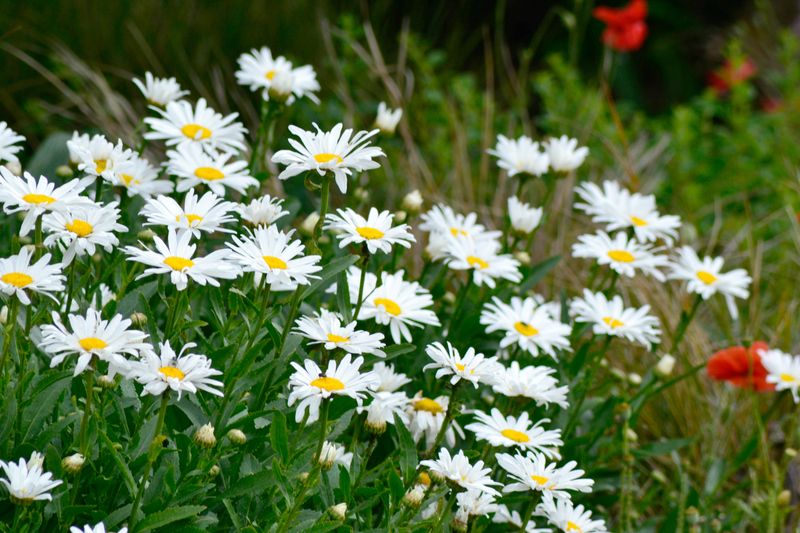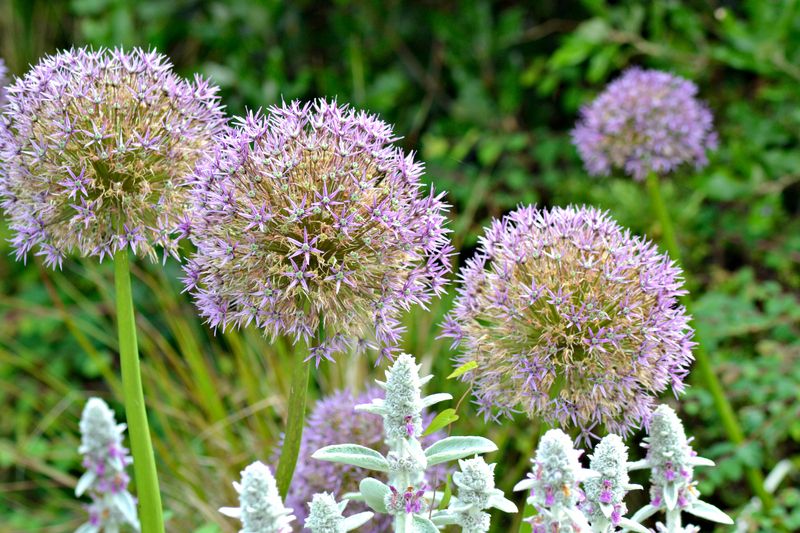 This post is my entry to Worded or Wordless Wednesday Linky!
Why dont you join in and link in your photo post (blog and instagram posts are welcome):

1.Link up photo post, wordless or worded, old and new!
2.Visit other post and share the linky love!
3.You can use my badge below so that other bloggers can join in too!
4.I will RT post! Just tweet me the link @pixiedusk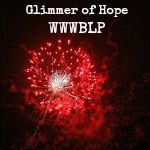 xx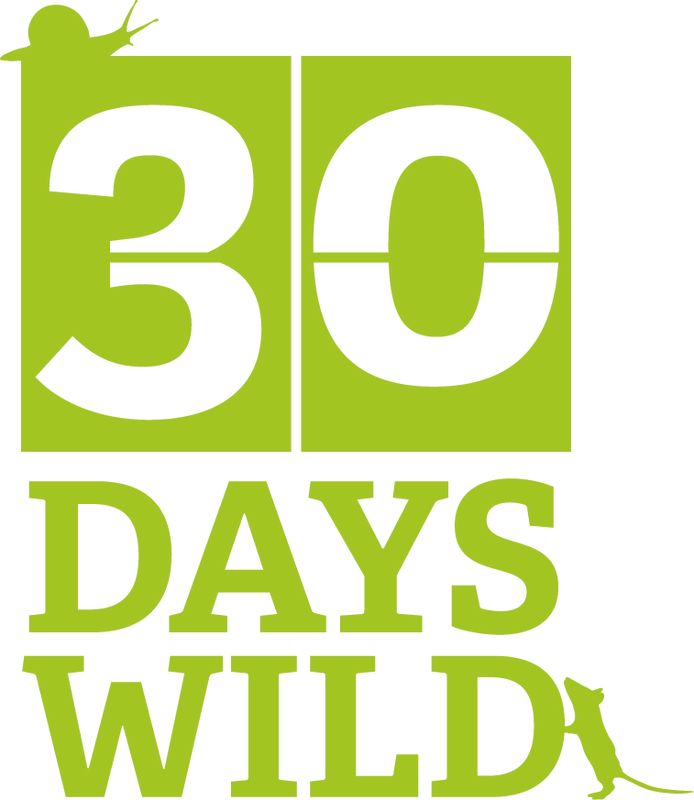 Both my son and I are waiting forthis event. We were really excited that we are there the night before the actual Weston Air Show.



And the morning before they open. We know how busy this event can get and we just want to see everything without having to shove our way around. Seeing the whole place made us really really excited. We vowed to go back on time to see these again brimming with people.




And when we got back the air is busy with planes showing off.
And even though its gloomy the people came!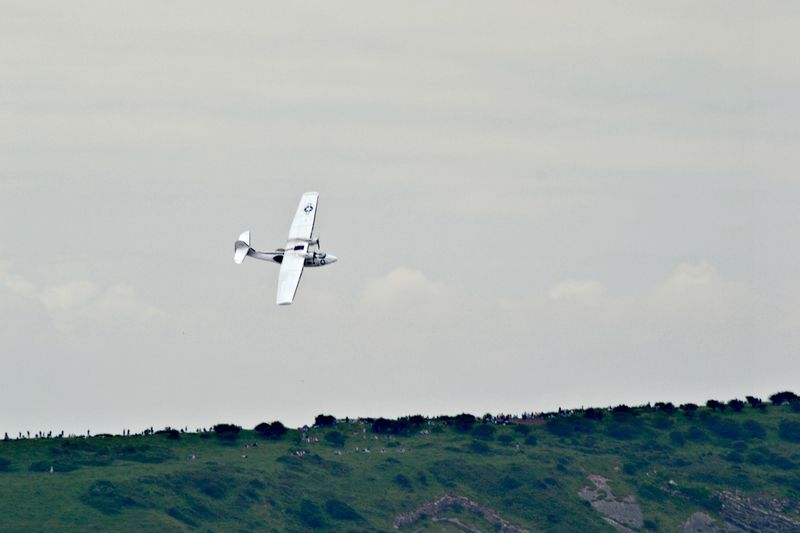 After seeing some awesome planes we decided to try the rides. We only have a budget of £5.
I was not going to let my son ride any due to money constraints but its his birthday tomorrow.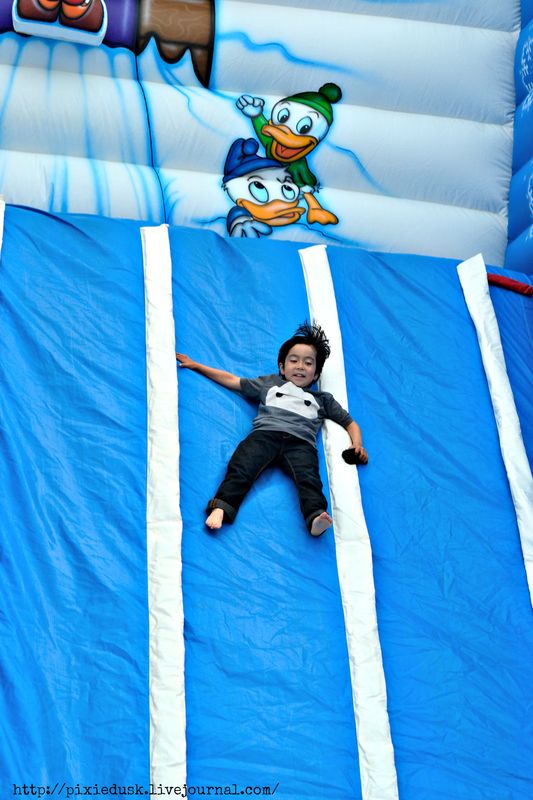 He rode the helter skelter and some bouncy castle. He bounce and bounce until...




Red Arrows! I am so glad that they came out early I am so out of excuse for when my son is asking if he can ride some more!
Red10's back here. I was wondering if they did a meet and greet like last year. He is one of my son's fave person but I dont think they have so we content ourselves with looking at him while he is presenting.




And of course the red arrows delivered!

This is such an amazing event. Timely too as I am really needing something to distract my head from all the worries of my life haha.
And there are a lot of family tradition that we started before but werent able to do this year for so many reasons but this event is the one that we are allowed to continue, to still do even if its just me and my son now. I am so glad for that.

It is also my son's birthday and I feel so guilty that I dont have anything for him. He loves this event so much that he requested to attend both days. That's gift and party sorted then!

xx





I remember riding the MRT (train in the Philippines) and not feeling his kicks which is so unlike him. My every waking moment is blessed with tummy movements that made my OBGyne said how perky my son is inside. I was thinking he is asleep there or I missed it due to the volume of people and the noise they are making can be oevrwhelming.

I went ahead with work. It was a busy day. We have deadlines and I was just not paying attention. When its my time to go home only then that it came back to me how I werent able to feel any movement from my son inside my tummy.

I remember being ever so nervous. The idea of losing him is there but its mostly my head telling me that I missed his moving.

I called my OB and told her about my dilemma. She is one of those who is not resting because she is good. Helping mothers give birth everyday!

She asked me questions and told me to go to her at the hospital where she is waiting for a mom to be. In labor she said.

I didnt even know how I got in the hospital. She said that sometimes babies inside the womb can move a lot sometimes just relaxing. She said she can feel the baby and he feels okay and as I am a first time mother I still worry and he said we can listen to my baby's heartbeat to assure me that he is okay and that is what we did.

Here is my baby inside my tummy. Technology is such an amazing thing.


This recording always makes me feel good. Warning that it is long and well there will be those hospital announcements. Not long enough for me then though. I think that if I can listen longer, overnight I will. Hearing his heartbeat knowing that he is there breathing with me is just the most amazing thing!

My son is 6 today. So fast! Wasnt it just yesterday that he is still inside me??? Now he is outside and is growing up fast!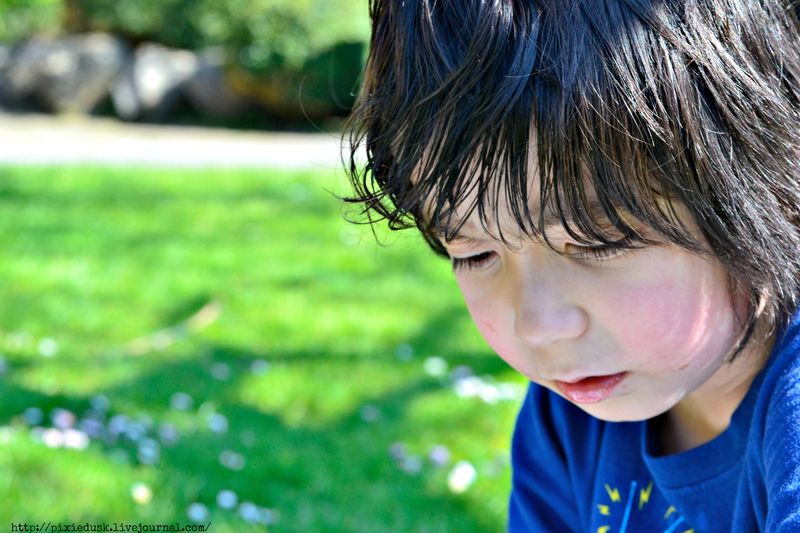 Happy Birthday Sebastian. I love you to the moon and back.
xx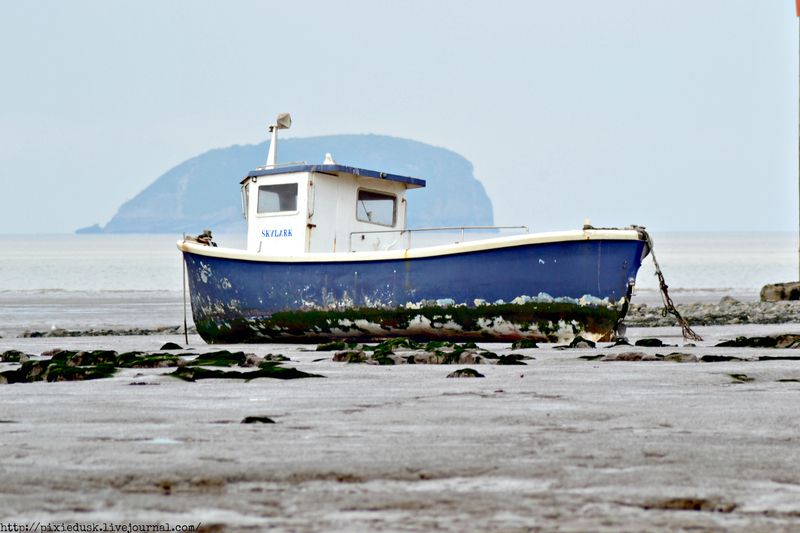 I am jobless. I get money from the father of my son for our weekly food and everything allowance. Sometimes I have money to spare but lots of times its tight. Especially when I need to buy food, toiletries and cleaning prods all at the same week. It would also cover school things like raffle tickets and events. Sometimes I buy my son those workbooks as he is struggling with Maths.

The money will be gone by Friday but its okay as if I have food in the fridge we are okay. But having no money to spare also means I cant go with other moms for say coffee or a meet up as it always end up eating. I cant also meet with fellow Filipinos as its the same, it would end up in a cafe and I dont really have any money to spare. So my lonely life is even lonelier to not be able to socialized with people. I cant forged new friendship because no one know that I dont have any money to spare.

The money would be given to me Sunday night if I am lucky. Sometimes Wednesday. Today I still dont have it. Thursday. Tomorrow I wont have anything for breakfast for my son. And my husband went home, whistling while preparing his food. While the whole past days I am frantically looking for money for food.

I remember a fellow Mom who offered me help before and I said no and I said that I will come to her when I really needed it. I messaged her this morning and she is going to send some cash.

While I am walking from school back home. I would sometimes think what if I just run to the street and just end this.

But I have a son. And I need to be there for him.

So I will literally shake my head to ward off negative thoughts.

While walking to the beach this morning, I saw a boat. I always love seeing them either sailing or just resting on the harbourside. Then I realized that the reason why I love seeing boats is because I want to go home and somehow in my head boats will help me escape this situation.

I can go home its only I cant bring my son.

So all in all I am not needed or wanted here. I would understand why I am not given the money. But that money doesnt just feed me its for our son as well.

If only I can sell myself just so I can feed us I will.

This is when ... when I am so glad that I have forged friendship with fellow bloggers. Because they really reach out. Like this mother who send me some help. A real amazing woman. Busy doing her work today but still found some time to send help.

I dont know how I wouldve survive this week without her. YOu know who you are THANK you very much.

I will try my best to stretch the money for as long as I can.

You are a gift to me this week, one of my hardest here to date. And I dont know what I will do without you.

A friend is my wotw.

xx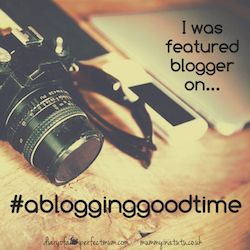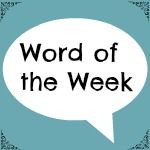 Just look at how pretty and busy everything and everyone in the woods are!
Flowers enticing the mini beasts and them bees and insects giving in to the blooms' charm!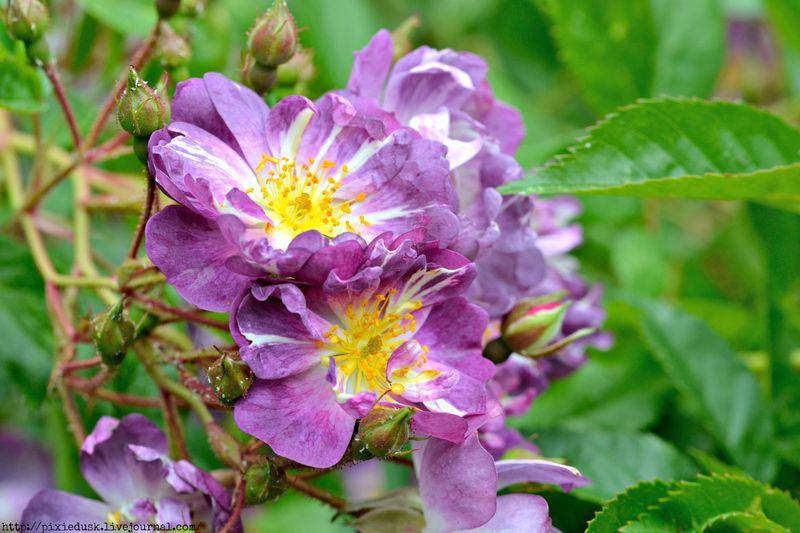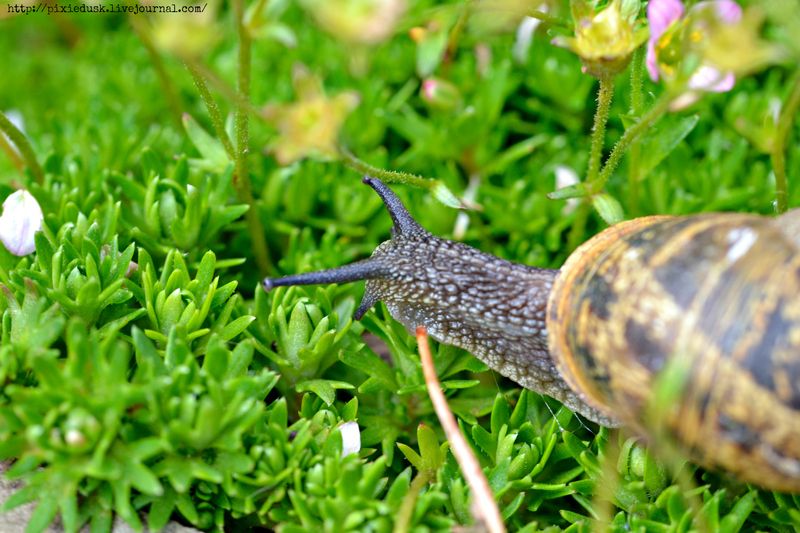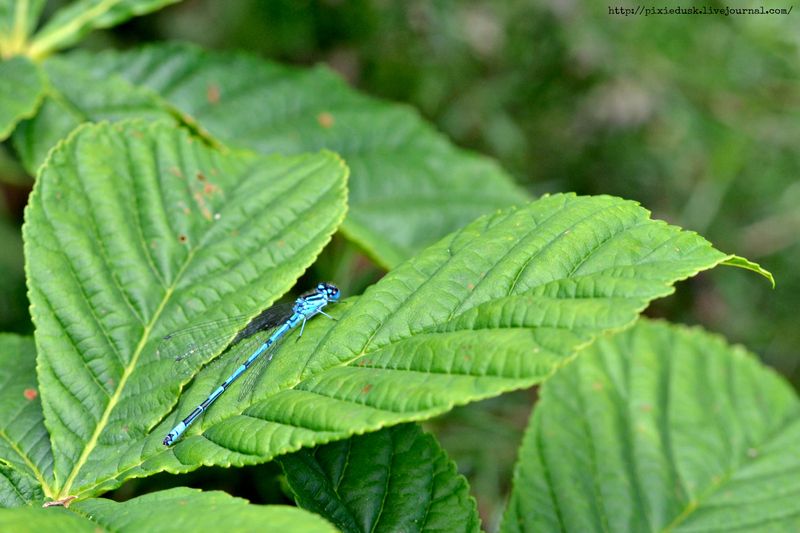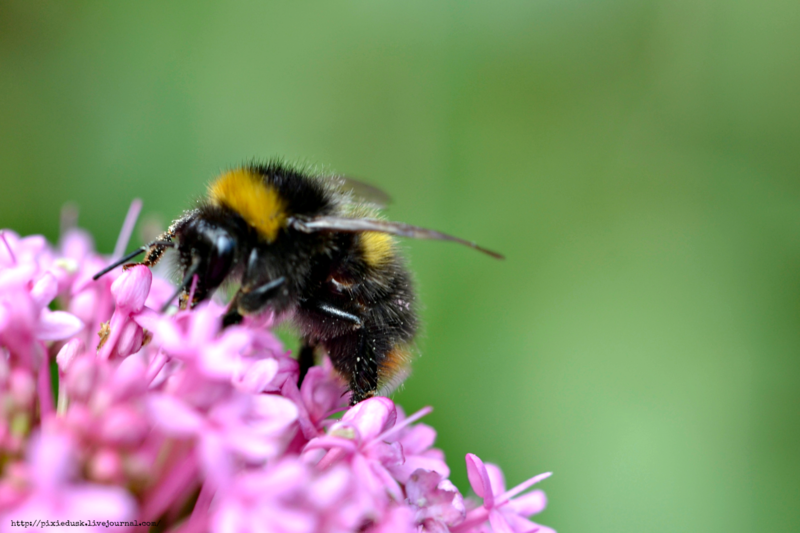 xx

This post is my entry to Worded or Wordless Wednesday Linky!
Why dont you join in and link in your photo post (blog and instagram posts are welcome):

1.Link up photo post, wordless or worded, old and new!
2.Visit other post and share the linky love!
3.You can use my badge below so that other bloggers can join in too!
4.I will RT post! Just tweet me the link @pixiedusk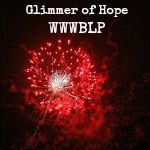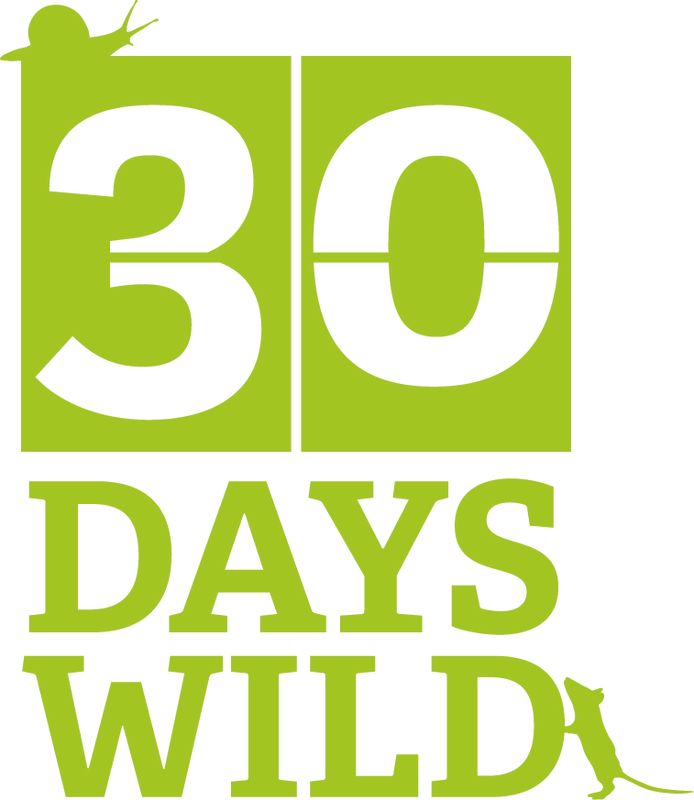 We have been waiting for this for the longest time! Kidfest at The Grand Pier here.
As we are always using the seafront for our school run my son would gush on how he is excited to attend this event.
He had met Andy from an event before and seeing Mr Bloom is anothe dream of his.

We got there after lunch. The weather is gloomy but it didnt hamper my son's excitement of course.
I mean its Mr Bloom!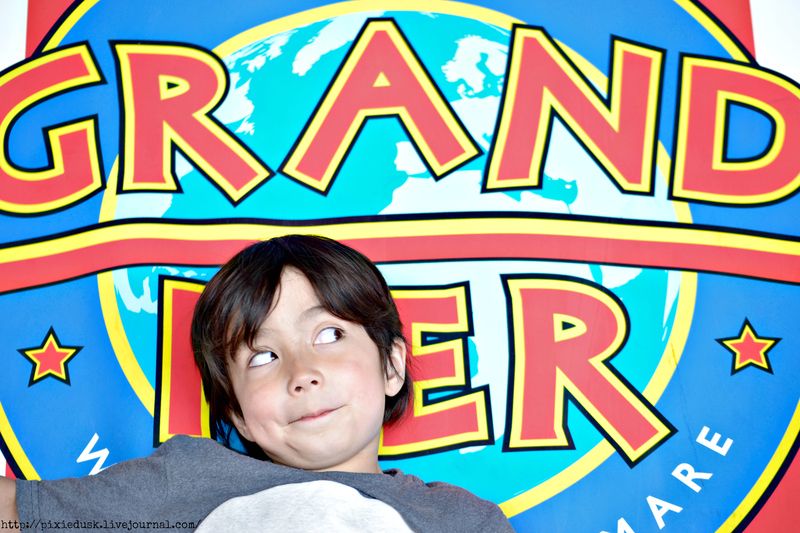 Before the actual Mr Bloom program we were able to enjoy what the Pier had prepared for the kids. Seeing animals, bouncy castle, craft corner and the ticket that we bought inludes the ride all you can inside. And that is what my son did. Entered every ride that he is allowed to.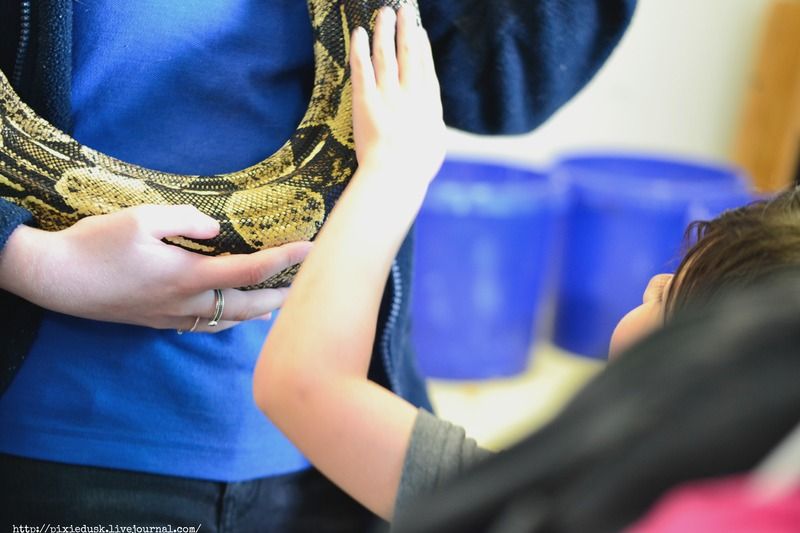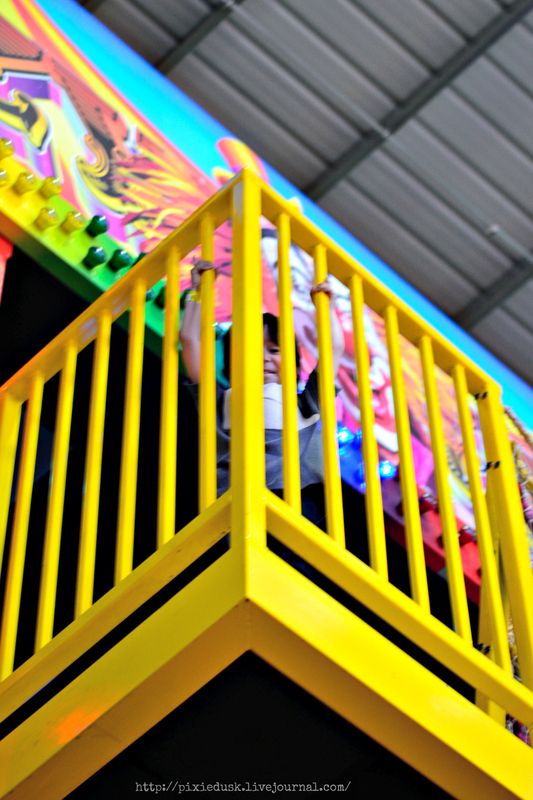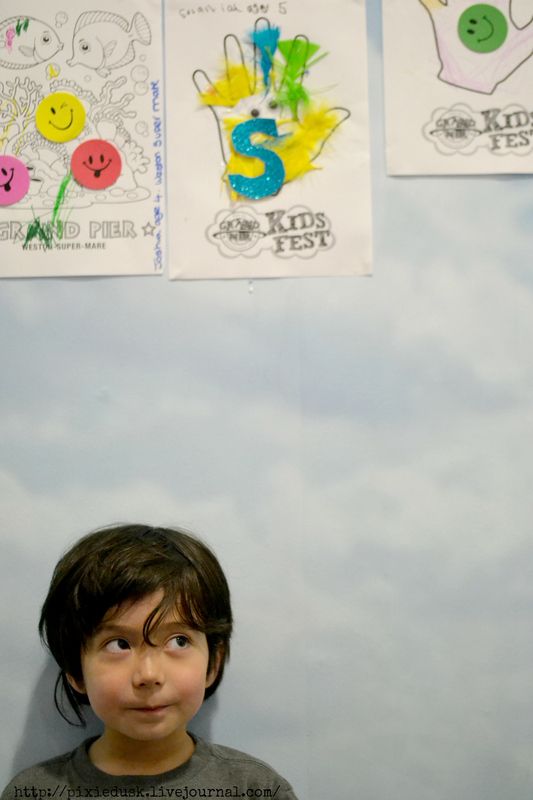 We were also given some Soreen goodies to sample and try and that gave my son energy to just run & play around the Pier.
Im telling you energy is what hes got!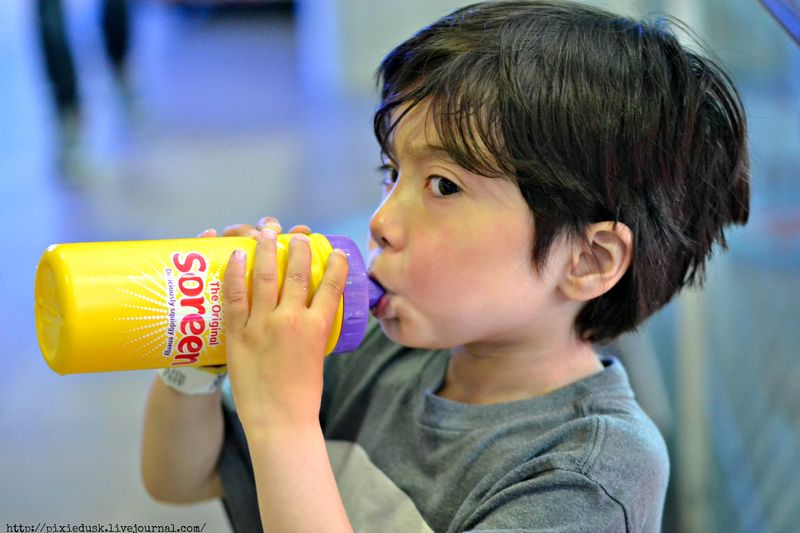 We finally went to the Mr Bloom program and was treated with songs by the man himself.
The kids love him! They are in awe of him and he is amazing. My son is one of the loudest and most excited in there.
The show is short but I guess its long enough for kids.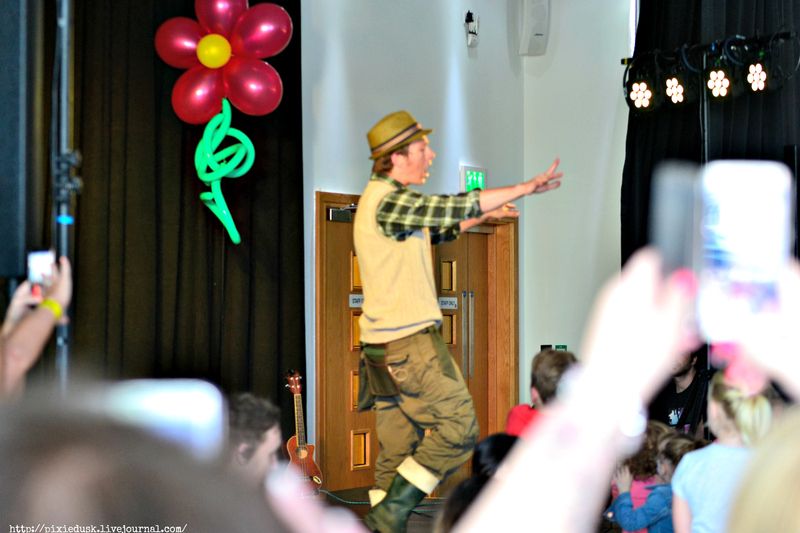 There is no meet and greet.
Which would have been awesome for the kids even if say they go in groups of 5 just to see him on a more personal level.
But my son is okay just seeing him.
And we go back to the arcade area to burn some more energy!
See that hand haha the cutout is too long for him to reach so we just took a photo of his hand =P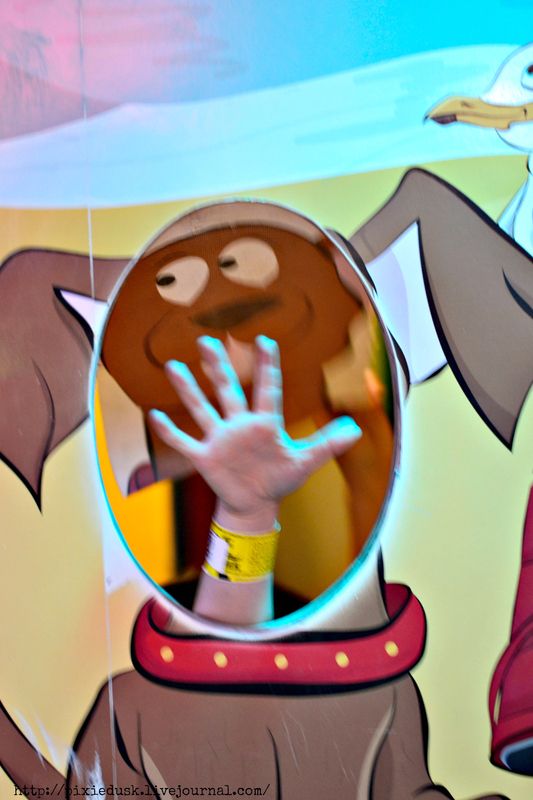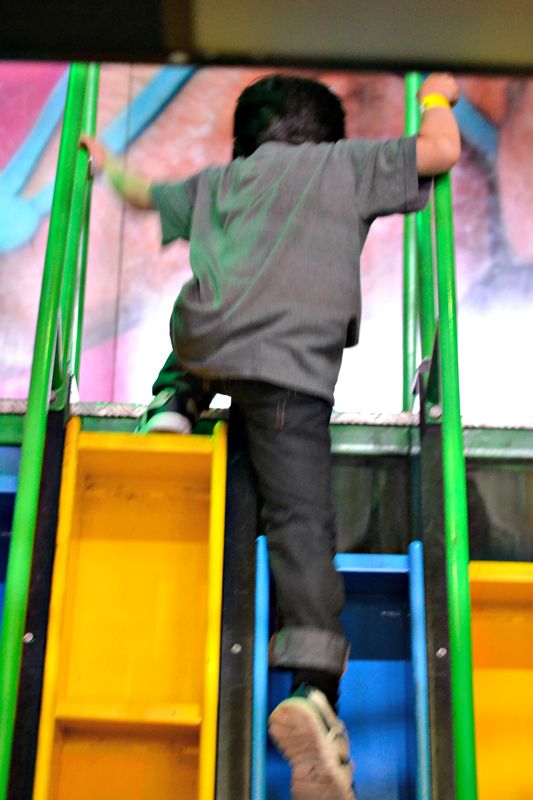 And we have been there for 4.5 hours! My feet is killing me! Almost 5 hours in an arcade!!!
And hes still going like an energizer bunny!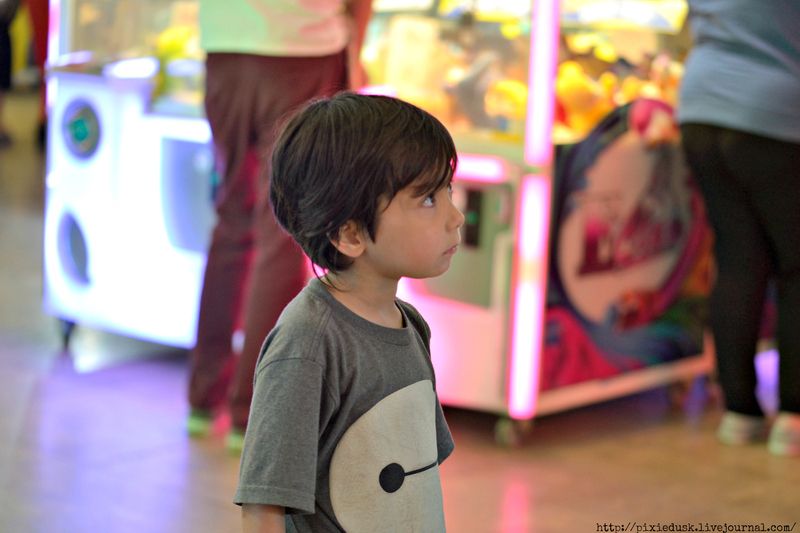 And here he is eating his mini cake. He loves them to bits.
He is usually fuzzy about texture and doesnt like soggy cakes but Soreen Squidgy cakes is just right for his palate.
And well it really does gives him energy!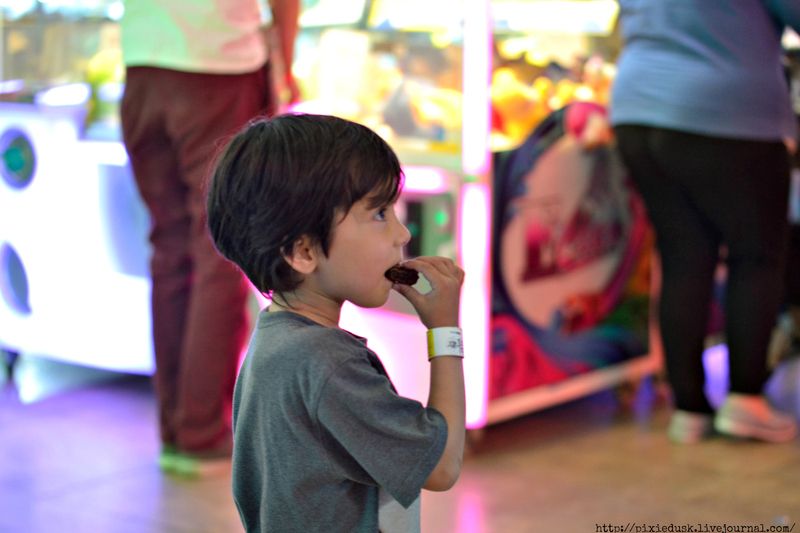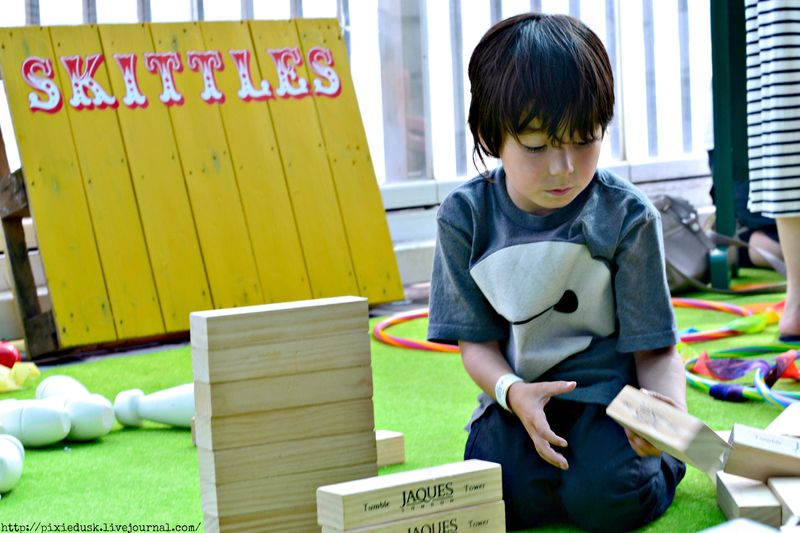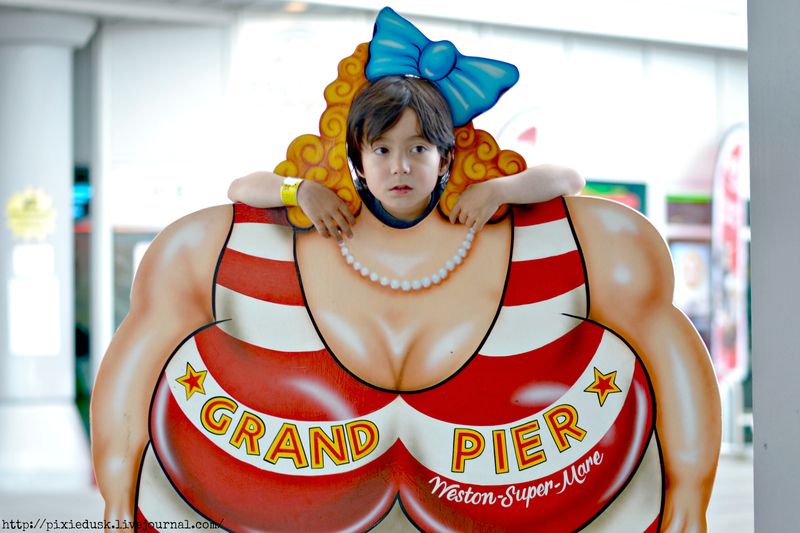 Finally the speaker said they are closing soon and that gave me an excuse to tell my son we should go.
Even on our way out my son is still skipping and hopping.
Safe to say that he enjoyed this trip!

He wont stop talking about it and he said he would tell his classmates about it.

xx

We bought the ticket for this event. We were given the Soreen Squidgy Cake to try but all the words and opinion are on my own.